Here at Jungle we want to bridge the gap in the plant buying process by bringing the nursery to you at your home or business. We have been in the industry for over 25 years and its time to update the plant buying process! All our local plant nurseries are stuck in the old ways of doing things and Jungle is here to change that. Here at Jungle our team has been a part of or has supported all of our local nurseries and have been for over 25 years. We will continue to do this and know the impact our local growers have. Jungle is here to bridge the gap in the plant buying process! We need to stop buying from overpriced big box stores or buying overpriced plants online that are shipped in boxes. Shop for quality, affordable, outdoor & indoor plants on our site full of plants designated for your area, and we ship the plants in our wind proof box trucks to your front door. Straight from our nurseries to your front door without ever putting plants in boxes. You will receive planting instructions with your order to take any guesswork out of the equation, leaving nothing left but to plant and enjoy your new jungle with knowing you are also helping our planet!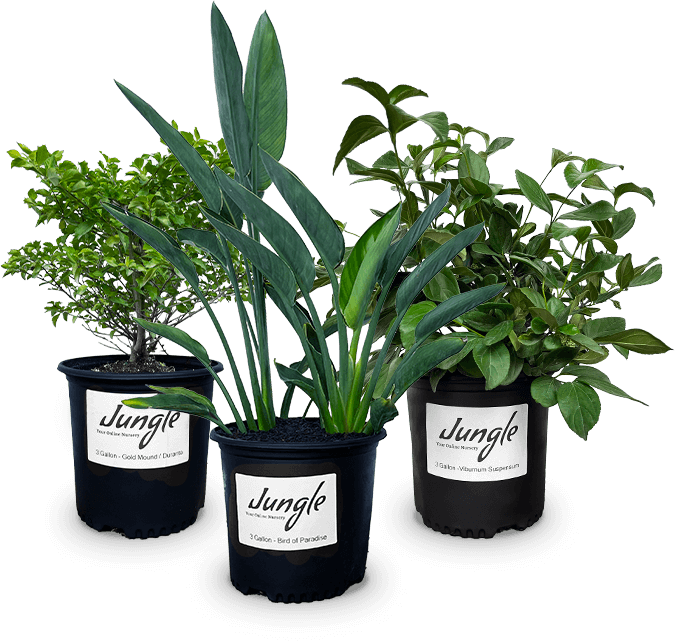 Have A Large Order? Plants Not Here?
Need a large amount of plant material? Need plants that are not listed on our site yet? Contact us today with the plant material and the amounts needed. We will be happy to help you!
100% Plant Quality Guarantee
If our plants are not to your satisfation we will give you a full refund on your order! Why would we do this? Because we know you will love our plants!